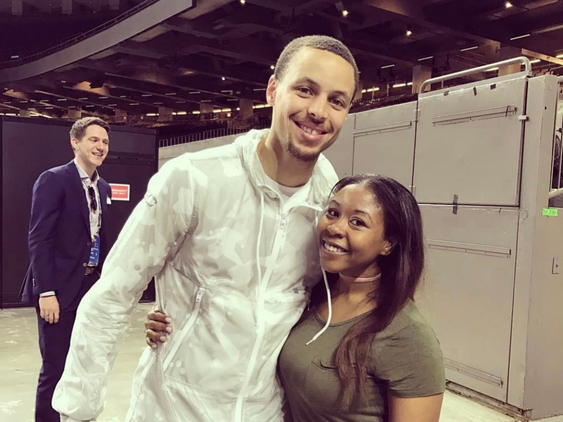 As I sat in the crowd anxiously awaiting the ceremony and fondly recounted my first love, I was a bit confused: who graduates in August?
Today, 3-pointers have almost become synonymous with Steph Curry or the 'Babyface Assassin'. Steph's family and mine grew up and attended schools together, his famous dad donned a Barney costume for my brother's birthday. We spent  countless hours together: from family vacations to hanging at the Hornets games, we've created many cherished memories together. Vowing to continue the 100% student-athlete graduation rate under the tenure of his coach, Steph – after 11 years in the league – went back to get his degree. Being present to witness the conferring of his degree, retiring of his number, and induction into the Davidson College Hall of Fame was a full circle moment. As a lifelong friend, this was nothing short of inspirational. As an entrepreneur, it quickly made sense why we were all there.
Steph's body of work extends beyond the court and includes a diverse business portfolio consisting of television projects, foundation work and tech investments. I truly felt as if we just witnessed a one-man commencement ceremony. An epic and fitting honor for a special guy. Steph formed SC30 in 2017 to manage his investments, brand partnerships and philanthropic ventures. He also has a production company, Unanimous Media, which has a multi-year development deal with Sony Pictures. In 2018, the NBA star invested $37 million into the esports organization TSM that was valued at a whopping $410 million just two years later. His tenacity, business acumen and humility are just a handful of reasons why entrepreneurs can learn a few lessons from the iconic shooting guard and serial entrepreneur.
Lesson 1: Be yourself. "Be the best version of yourself in anything you do. You don't have to live anybody else's story."
Reading Steph's scouting report as a youngster, a future in the NBA, let alone becoming an All Star and three-time NBA Champion was far from a given for the unranked, under-the-radar sharp-shooter. Steph was seen by many of the major universities as "The Underdog" and was often overlooked. He stayed the course and it worked out in his favor. This is similar for entrepreneurs and small business owners: recognizing your unique selling position and remaining true to your authentic story will separate you from your competitors even in a crowded market.
Lesson 2: Stay focused on the long-term goal not the short-term gain. "Success is not an accident, success is actually a choice."
Steph knew when we were kids that he wanted to play in the League despite not being highly recruited. He knew if he consistently put in the work it would pay off. He implemented routines and trained himself at the age of 14 how to improve his shot and worked hard to inspire those around him. Growing a business, there will be times of intense highs, which should be celebrated but there will also be growing pains. Remember to stay focused and grounded, prepare for the rainy days and always celebrate the wins. In basketball and in business (even the business of basketball), realizing the power of automation and delegation coupled with unwavering trusting in your team will lead to true success.
Lesson 3: Faith over Fear. "I've never been afraid of big moments. I get butterflies. I get nervous and anxious, but I think those are good signs that I am ready for the moment."
Let's face it, being an entrepreneur is rewarding but it is hard work and it isn't for everyone. If you find yourself scratching the itch, and can cultivate passion, drive and success, then get after it! Even your favorite NBA All Star gets butterflies but how you harness that energy is what makes a champion.