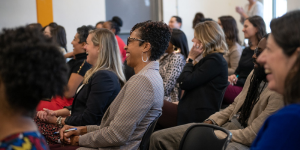 Can you believe we are more than two years into the pandemic? We are continuing to adjust to the new normal, returning to the office while managing the updated mask mandates. With restrictions being lifted and comfortability for gathering rising there has been a serious uptick in events. In-person events are back in a major way and still prove to be valuable for companies and brands. In this digital age amongst stiff competition, organizations are always on the hunt for creative ways to engage customers. A key, emerging trend, a recent survey found, is that planners still strongly consider face-to-face meetings irreplaceable. According to the Morning Spotlight survey, 82 percent of an international group of event planners say they value them more than before the pandemic . The pressure is on now that attendees are back in person to make your event stand apart from the rest. Here are five ways to make your next event unforgettable: 
1. Choose the appropriate venue for your event type
The venue sets the tone for your event so ensuring you've picked a location that considers these points: budget (the fee should be within your budget), accommodating guest count (should have enough room for guests especially to maintain safe distancing) and nature of event (what and why is the event being held for?) for instance a nightclub may not be your first option for hosting a baby shower 
2. Have an attention-grabbing activation
People like to be wowed, entertained and engaged. Having the right attention grabbing activation can have your event talked about for weeks to come. Something that is picturesque and ready for social media – for example an ice sculpture that doubles as a drinking fountain or a 360 camera experience. 
3. Choose a theme
A theme helps pull everything together when properly executed. All the decor, food, music, entertainment, invitations should align with the theme of the event which will make your event standout. 
4. Food and beverages
The way to anyone's heart is through their stomach. Selecting the right menu and drinks will be key because guests may not remember names but they will remember their food and beverages. 
5. Send personalized thank you notes
Adding a personal touch always makes an experience memorable and is a fun reminder for the guests of the wonderful time they had at your event. 
Bonus Tip: Hire an event planner. Event planners have industry connections, experience and the ability to take the heavy lifting off of your plate and make your vision a reality. Plus hiring an event planner allows you time to work the room and actually enjoy the event that you've worked so hard on. 
Events can be a stressful and a daunting task. There are several moving pieces and logistics to event planning so if it isn't in your wheelhouse, don't fret, that's what event planners like us are for. An event planner's goal is to help craft an event experience that meets and in most cases exceeds expectations. For more tips and resources, sign up for our newsletter. 
Source: https://www.meetingspotlight.com/research/survey-shows-event-planners-commitment-person-events