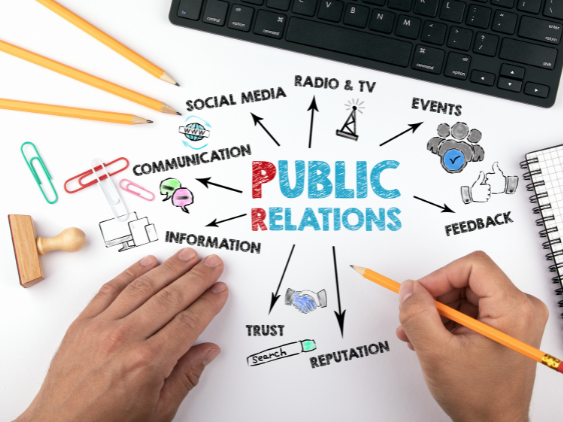 While the intersection of social media and public relations has been relevant for quite some time now, it is increasingly important for communications professionals to stay in tune with evolving platforms, utilize best practices to maximize exposure for messaging and brand awareness, and work in cohesion with your organization's social media and marketing team for consistency.
Recently, I had the opportunity to partner with social media expert Katie McKiever on Bogues Group's latest webinar which shined a light on the social media and public relation merge. In case you missed it, you can watch the webinar here. See below for some of my favorite highlights of the event.
TOGETHER EVERYONE ACHIEVES MORE
In this day and age with technology consistently at our fingertips, it is essential to cross your T's and dot your I's on your public relations plan to ensure no detail is left out. Public relations and social media should work in tandem to create impactful assets, identify appropriate channels and hashtags, and solidify cadence and timing of posts in accordance with other communication distribution, i.e., press releases or embargos. You can never put too much detail into a PR plan.
LEVERAGE YOUR EXECUTIVES
It is a worthwhile exercise to work with executives to elevate their personal brand via social media. Executives should engage with pertinent industry media online, share important company news, and showcase their expertise to add credence to the organization. This also gives you added channels to push your messaging outside company handles, provides potential media interview opportunities, and assists with award submissions.
TWO-WAY MESSAGING
Social media presents an opportunity for two-way messaging like no other platform in existence. Use it to your advantage. Engage with consumers and media on a consistent basis. Check your DMs. Acknowledge your audience and utilize metrics provided to gain an understanding of who is following along.
SHARE, SHARE AND SHARE SOME MORE
Too often an organization lands an earned media piece, and it isn't shared on social media. Work with your social media team to alert them on the upcoming placement and find creative ways to share the piece on various social media platforms. Cross-promote, boost the news with paid social media posts, incorporate into email communication, craft an owned-content piece like a blog, or even repurpose into video. The options are endless but important to maximize exposure of the piece.
Looking for specific ways to use Twitter, Instagram, Facebook, Linkedin and TikTok for your public relations needs? Check out our latest FREE downloadable resource here.