Gone are the days when women blended into the background and minded their place. Nowadays, they are empowered and emboldened to speak their mind and give pushback when necessary, something more prominent in today's workplace. The biggest challenge many companies are encountering is keeping a hold on their female leadership – an already underrepresented dynamic. The pandemic opened the eyes of many, showing that staying in a toxic work environment is not worth the stress or sacrifice on one's well-being. Companies are seeing female workers leaving in droves, a vast majority being female leadership. So what is the issue? What is causing this, and what can companies do to lower this troubling statistic? 
Female Leadership is Overwork, Undervalued
Women are often seen as more emotional than men. Women often connect with others on an emotional level, meaning female leaders are usually the ones who support and advocate for employee well-being. This results in higher retention rates and employee morale; however, they are not always rewarded or recognized for this effort. This is often something that upper management doesn't pay any mind to since they only worry about the bottom line. Doing work that is not acknowledged while constantly being overworked can make one feel unappreciated. This could be why many female leaders leave to find a place where they are valued, celebrated, and supported in their job. 
Motherhood
The Motherhood Penalty is nothing made of fiction. It is very much real and frequently happens in the workplace. Working mothers are often seen as distracted if they speak about their children, while working fathers who do the same are seen as caring and present fathers. It can be argued that the evolution of the workplace is moving backward instead of forward when it comes to finding ways to support working mothers. Women are often overlooked for promotions and leadership roles when they are expecting to have children or already have children. In fact, women will see a 4% decrease in pay per child versus the 6% increase that men will see. Women make up over 50% of the entry-level workforce, but there tends to be a drop-off in middle management, with few women making it to leadership positions. To think, in this day and age, women are afraid to consider having children since it could impact their career trajectory is sad and shows a bigger problem is at play. 
Can We Save Female Leadership?
It's one thing to understand the problem and another to do something about it. Companies are seeing their female leadership leave to pursue happiness and stability elsewhere. Being overworked and undervalued leads to burnout, which is a key reason many female workers and leaders seek opportunities elsewhere. With motherhood and lack of consideration forcing women to reevaluate their career paths, it's no wonder many feel ostracized for choosing to be working mothers when it is often used to penalize them. Poor management and development also weigh in on this prominent issue. By providing more flexibility, opportunities to grow, and fair compensation for a job well done, we will see the rate of female leadership grow. It just takes someone to take that first step to ensure a better tomorrow. 
If you're looking for a community of peers to help and support you on your journey to/in the C-Suite, join our C-Suite Club!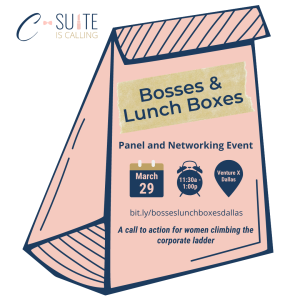 And if you're looking to get up close and personal, join us at our in-person event, Bosses & Lunch Boxes!
This amazing panel and networking event will be in Dallas, TX, on March 29, 2020 @ 11:30am, at Venture X Dallas. 
Join Melinda Lily, COO of Hedge Fund Strategies at Crestline Investors, Inc. & Uni Yost, CEO and Founder of GoAskJay.com and AllbenHQ.com, as they share industry insights and behind the scenes knowledge from the C-Suite!
Get your tickets here!