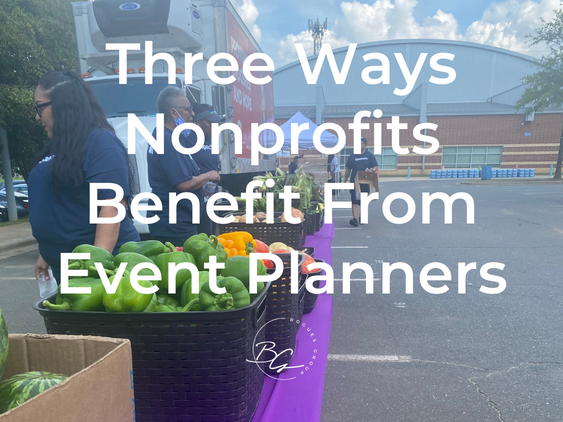 As most nonprofits look to the end of the fiscal year and prepare for 2023, the need for creative appeals and fundraising campaigns is critical now more than ever. Nonprofits are looking for new and innovative ways to engage donors post pandemic.  Events have always ranked as one of the most  important and effective fundraising methods; so, hosting the right type of event is key. This is where hiring an experienced event team can come in handy.
Here's how:  
Knowing  your audience is  always the first step in planning your event. Decide what part of your donor base  you are looking to engage and use the intel to identify the event type that best fits your theme, audience and event goals. From experiences with  our nonprofit clients, many had strategic plans centered around in person events.  Knowing  how and if to pivot is where an event professional can utilize their experience to help you decide what event type makes the most sense. 
Tip #1
An event planner can help you weigh the pro and cons of digital, in person or hybrid, including which layout will align most with the nonprofit's goal. In addition, an experienced event planner should suggest ways to poll your key stakeholders to gather useful information to further assist with selecting the best event type.
Event planning is all about managing relationships and the devil is in the details. When you get in the weeds, event planning can get overwhelming and your corporate and individual giving team's time could be better spent cultivating relationships with  potential and current donors/sponsors. An event planner team like BG will handle vendor management and logistics,  so your only job for the event night is to mingle and lock in additional donations.  
Tip #2
Choosing the right technology
Technology is the future and hybrid events are not going away. Selecting and utilizing the right technology for your event can positively impact your bottom line and donor experience. Be sure to consider a fun user experience that allows donors to easily donate will immediately set your event apart when vetting potential platforms.  With our background specific  nonprofit event planning, we always look for custom ways our nonprofit clients  can utilize technology to raise funds in a way that is seamless for the donor. 
Tip #3
Ease and peace of mind
In the wake of The Great Resignation, it is no secret that nonprofit organizations are understaffed and the current staff wears multiple hats. The main goal of the nonprofit is to use all existing resources and staff expertise to further the organization's mission and vision. Event planners offer nonprofits peace of mind and flexibility so the nonprofit team can focus on their primary role and focus on cultivating relationships, promoting the event, and securing sponsorship. The vendor relationships an experienced event planner has can help expedite the selection process of choosing major items that play a role in overall guest experience like venues, caterers , photographers, software representatives, decor and more.  . In addition, event planners can work with your internal team/board members to coach with fundraising strategies.
Events generate major funding and 30% of annual giving happens in December, with about 10% of all annual donations coming in the last three days of the year. [2]  Blink and December will be here before you know it!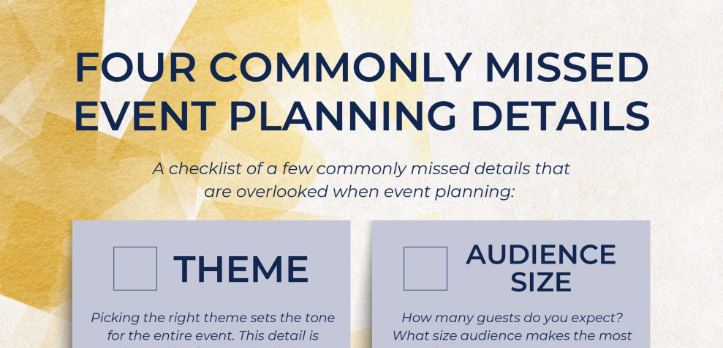 Click here to access a downloadable checklist on commonly missed event planning details:
For more tips or to hire us for your next event visit our Contact Us page today!