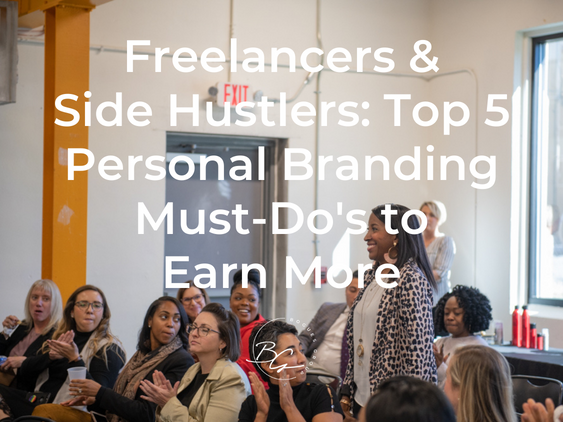 The existing job market and changes in the workforce are causing workers to gravitate toward freelancing or even picking up a side hustle in addition to their career. 45% of working Americans report having a side hustle1. That amounts to roughly 70 million people. Among millennials, that statistic rises to 50%2. With this growing trend it is vital for your brand to stand out and here's how to do that:
1. Build a landing page or website/portfolio
There are several platforms to help you host your website or portfolio. They range from free to expensive and are mostly user friendly. Some platforms do not require any coding experience which will make you look more experienced. Some of our favorite website tools and platforms can be found on the downloadable resource list.
2. Maintain a steady social media presence
Social media is a direct outlet to your audience and a way to highlight your personal brand. Using social, you can plan ahead by creating batch content and to stay ahead of schedule. Be sure to use one of the helpful scheduling tools to keep your content consistent while freeing up time.
3. Emphasize your unique traits/skills
Everyone is unique and has their own special skills so take stock of your uniqueness and how it applies to your brand. Find ways to emphasize yourself to your audience.
4. Identify and understand your audience
One of the most important questions you need to ask yourself is: who is my brand for? Who am I trying to relate or connect with? How do they get their information? Doing research to identify what group or demographic you appeal to helps to determine your audience.
5. A system for maintaining your projects/workload
Competing to-dos and tasks are hard to keep up with and prioritize. As a business owner, the tasks can pile up between your role with your company, client work and prospecting all while maintaining a personal life. Thankfully there are several softwares and apps to keep your team and yourself in check. Softwares vary from simple formats like the To Do list app which is a simple digital task list to more robust like Asana where you are able to assign, track and analyze all company wide tasks. Choosing the right software is key for your success.
Successful personal branding relies heavily on consistency, organization and creativity. Once you have clearly identified your unique skills and traits you can begin creating your brand. When choosing your colors, fonts and taglines, back your choices up with research and life experiences. Trust your gut and go after it – if you still need guidance, we got your back. Click here to access a downloadable resource guide for implementing strategies and elevating your brand.
BoguesGroup.com/resource-guide-for-freelancers-and-side-hustlers